Introduction
Search engine optimization (SEO) is crucial for driving organic traffic to your website. With so much competition online, having an effective SEO strategy is more important than ever before. The right SEO tactics can help get your pages ranking higher in search engines like Google, allowing you to tap into the millions of people searching for your products or services every single day.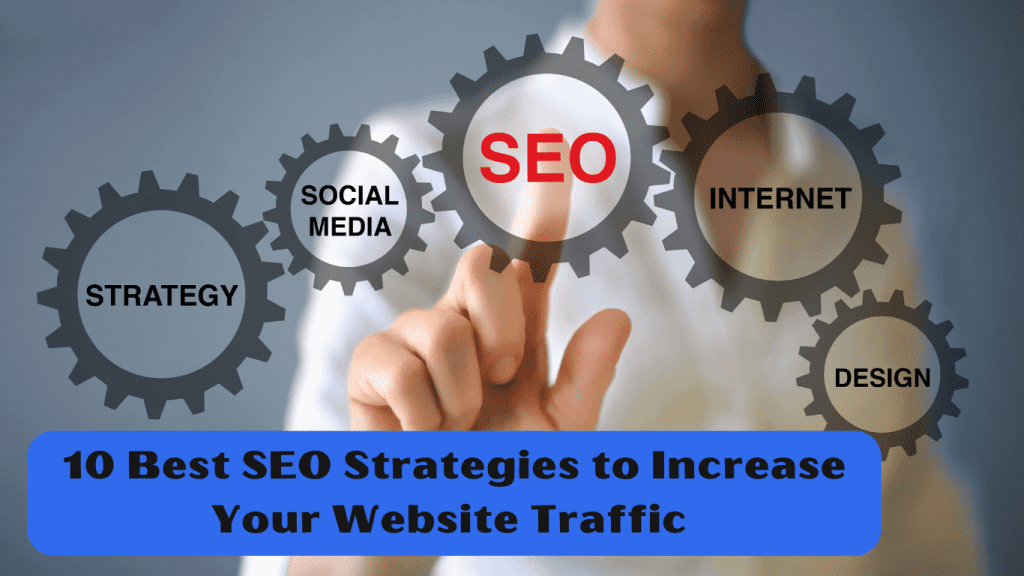 In this comprehensive guide, we'll explore the top 10 most effective SEO strategies and tips to increase your website traffic this year. Whether you run a blog, an e commerce store, or any other type of website, these proven techniques will help improve your search rankings and attract more visitors.
Let's get started!
1. Optimize Your Website for Speed
Site speed is a very important ranking factor, which is why optimizing your pages to load as quickly as possible should be high on your priority list. Google has stated that faster loading websites will receive a boost in search rankings.
There are a few key things you can do to speed up your website:
Enable caching – Caching stores page components allowing pages to load faster. Using a plugin like WP Rocket can dramatically improve cache times.
Compress images – Image files can slow down page load speeds. Use a tool like ImageOptim to compress images before uploading them.
Minify CSS, JavaScript and HTML – Minifying removes extra spaces and formatting to reduce file sizes. Plugins like Autoptimize can automate this process.
Remove render-blocking JavaScript – Load JavaScript files asynchronously so they don't block the HTML from loading.
Use a CDN – A content delivery network stores data globally allowing for faster load times by reducing the distance between server and visitor.
Upgrade to faster web hosting – Switching to a better web host with SSD storage, more resources and data centers close to visitors can directly speed up your website.
Following these best practices for site speed optimization can improve your page load times significantly, leading to better SEO and search rankings. Faster websites also provide a better user experience, which benefits your conversion rates.
2. Optimize Your Website for Mobile
With more and more people accessing the internet on mobile devices, having a mobile responsive website is extremely important for ranking well and providing a seamless browsing experience. Here are some tips for optimizing your website for mobile SEO:
Make sure your pages are mobile responsive- This means resizing elements and text to fit smaller screens and be easily viewable on smartphones and tablets. Use responsive web design techniques with CSS media queries.
Avoid interstitials and popups – Anything blocking content on mobile pages provides a poor user experience. Avoid popups and interstitials that block content, or make sure to add a skip or close button.
Size tap targets appropriately – Links and buttons should be large enough for easy tapping on a touchscreen. Increase the clickable area size.
Check your page speed on mobile – Slow load times have an even greater impact on mobile users. Test your mobile site speed and optimize where needed.
Adapt your navigation menu – Use a simple dropdown menu to prevent clutter on mobile screens. Make navigation intuitive.
Ensure proper tagging for local SEO – Having correct tags for business name, address and phone number helps mobile users find and contact you.
With Google's mobile-first indexing, optimizing for mobile is mandatory. Following these tips will help Google crawl, index, and rank your pages well in mobile search results.
3. Create User-Friendly and Engaging Content
Useful, engaging and relevant content will always be the most important element for SEO success. When creating content for your website, keep these key points in mind:
Understand searcher intent and create content that fulfills it – Optimizing your pages for targeted keywords is pointless unless the content provides what searchers are looking for.
Focus on creating truly unique and useful content – Avoid duplicating other content that already exists online. Provide original value for readers.
Structure content in an easy to scan format with headlines, subheadings and bullet points – Breaking content into consumable sections helps users quickly find the parts most relevant to them.
Include visual aids like infographics, charts, photos and videos – Visuals make content more engaging and easier to digest. Videos can also be a search ranking factor.
Write indepth, detailed content over 3,000 words in length – Long-form content ranks well for more extensive searches. But ensure information is useful and not unnecessarily padded.
Make content interactive when possible with surveys, quizzes and calculators – Interactive elements get users more invested in content for higher engagement and conversions.
Include internal links to related articles – Linking to other relevant content on your site improves its ability to rank for related keywords.
Creating exceptional content requires time, but ultimately drives more organic growth. Focus on targeting informational keywords in your niche, and providing truly useful content for your audience.
4. Build High Quality Backlinks
One of the most important ranking factors is still backlinks – the number of other websites linking back to your pages. While low quality links can actually hurt your site, obtaining authoritative backlinks from respected websites in your industry will provide a significant SEO boost.
Here are effective tactics to build quality backlinks:
Produce genuinely useful resources like online tools, research reports, how-tos and guides that sites will want to link to – Promote these resources and make it easy for others to refer to them.
Guest post on industry authority sites – Contact blogs and offer to provide unique, expertise-filled content. Aim for sites with domains rating 50+ on Moz and DA/PA 50+.
Get interviewed on podcasts and industry YouTube channels – Being featured on shows gets you direct links as well as exposure to an engaged audience.
Comment on related blogs and join forum discussions in your field – Give helpful expert advice and add a link to your website where relevant.
Sponsor or speak at trade shows and conferences – Events provide networking opportunities to connect with backlink sources.
Promote content on social media – Sharing and engaging with your target audience can lead to natural backlinks.
Build relationships with influencers in your space – Work together on co-produced content that links back to both sites.
With persistence and consistency, a diverse backlink portfolio will develop organically over time. Avoid shady tactics and focus on forging genuine connections.
5. Improve Your On-Page SEO
Optimizing your on-page elements is crucial for search rankings. Pay attention to these key areas:
Page titles and meta descriptions – These appear as the main elements in search results. Titles should be under 60 characters using the target keyword. Descriptions 160 characters or less.
URL structure – URLs should be short and keyword rich, with hyphens instead of underscores.
Headings and subheadings – Properly structure headings using H1, H2 etc tags. Headings should contain keywords where appropriate.
Image optimization – Use descriptive alt text and file names containing keywords. Provide height and width attributes for proper on-page sizing.
Internal linking – Link to other related pages and resources on your site. Anchor text can include target keywords.
Content formatting – Use bullet points, numbered lists and bold/italic to emphasize important information. Break content into readable paragraphs.
Multimedia – Embed videos and infographics related to page content to improve engagement.
Structured data markup – Mark up elements like reviews, events, people, products etc using schema.org guidelines.
Site speed – Faster page load times improve on-page time spent. Optimize images, enable compression, minify code and leverage caching.
Perfecting these on-page fundamentals improves the overall user experience while helping search engines better interpret and index your content.
6. Provide a Great User Experience
Beyond just on-page elements, striving to offer the best possible overall user experience can provide huge SEO dividends. Here are some top tips:
Make your website extremely simple to navigate – Cut down on clutter. Use simple, logically organized menus and navigation schemes.
Personalize for your users when possible – Recommend related products on ecommerce sites. Segment your audience to provide tailored content.
Understand your users' buyer journey and map content to each stage – Create specialized pages for each phase – awareness, consideration, decision.
Choose the right page architecture – Things like long product pages vs separate tabs come down to your audience's preferences. Test diferentes setups.
Provide exceptional content – Well-written, in-depth content builds engagement and satisfaction. Update regularly.
Implement site search – An effective site search helps users easily find information. Optimize with keywords and autocomplete.
Use calls to action across pages – Tell users explicitly when and how to convert rather than relying on them to figure it out.
Make forms and checkouts seamless – Reduce the number of fields. Use autofill and guest checkout options.
Include user-generated content like reviews and testimonials – Peer content builds trust and social proof.
An amazing user experience across your site does more than boost conversions – it signals to Google that your site satisfies searchers' needs.
7. Leverage Long Tail Keywords
Targeting long tail keywords is an extremely effective SEO tactic that is often overlooked. Long tail keywords are more specific, longer phrases like "benefits of exercise for seniors over 60".
While they have lower search volume, long tail keywords have far less competition. This makes it easier to rank for them, sending highly targeted traffic to your site.
Research long tail variations around your main keywords using Google's Keyword Planner. For example, for a fitness site, tail keywords could include:
home workout routines for beginners
how to meal prep for weight loss
HIIT training videos for fat loss
Optimize pages targeting these low competition long tail terms. Include the keywords in titles, content, URLs and meta descriptions.
Long tail keywords also have higher conversion rates since they indicate a user has a more specific intent. Someone searching for "B2B startup fundraising strategies" is closer to converting than someone simply searching "startup fundraising".
Finally, ranking for multiple long tail keywords related to a broader topic helps boost your overall authority and rankings for the topic itself.
Leveraging long tail SEO is an easy win. Target these hidden gems to build traffic, boost authority and improve conversions.
8. Implement Proper SEO On-Site Architecture
A thoughtful SEO site architecture will boost your ability to target and rank for keywords. Elements include:
A clear hierarchy of pages from most general content like homepage and category pages, down to very specific deep pages – More general pages target broad keywords. More specific pages target niche long tail keywords.
Intuitive category and subcategory pages – For sites like ecommerce stores and blogs, properly siloed categories help segment content and rank pages for their respective terms.
Location pages – For local sites like services, have dedicated location pages like yoursitename.com/city to optimize for local SEO keywords.
Priority pages like About Us, Contact, Pricing etc readily available from main navigation – These important pages should be linked across site and optimized individually.
Consolidate overlapping content by redirecting minor pages to one primary page – Help prevent duplicate content issues.
Interlinking between related pages – Have call-out links in content and site elements like menus leading users to highly relevant information.
Useful breadcrumb navigation – Breadcrumbs like Home > Parent Category > Current Page help users navigate back up the architecture.
Simple URLs – Product and page URLs should be clean and contain relevant keywords, not overly long ID numbers.
A useful XML sitemap – A sitemap listing all pages helps search engines crawl your site.
With a well-structured site architecture, you make it as easy as possible for search engines to crawl, index, and understand your content.
9. Integrate Social Media for SEO Benefits
Social media and SEO have a symbiotic relationship that can be leveraged for greater reach and visibility.
Here are some effective ways to use social media for SEO:
Share on-site content – Distributing links to your new pages and posts helps search engines discover new content.
Link internally in posts when relevant – Links back to your site in social posts can be followed by bots and contribute to SEO.
Engage with your audience – Likes, comments and shares signal popularity to search algorithms.
Promote external high authority resources – Strategically share reputable third-party content to build engagement and links.
Use relevant hashtags – Where appropriate, include popular hashtags in posts for increased visibility to more users.
Run contests and sweepstakes – User-generated content and links in exchange for a chance to win a prize.
Showcase visual media – Share engaging photos, infographics and videos that can be crawled back to a page.
Crosslink social media accounts in profiles – Crosslink your Twitter, Instagram etc to strengthen the relationship in Google's eyes.
Manage reviews – Positive verified reviews on Google, Facebook and industry sites lend credibility.
Integrating your SEO and social efforts allows engagement on social to flow back into improving search visibility. Build your social following while leveraging it for organic growth.
10. Track Performance and Iterate
No SEO strategy remains static. To continually increase your website traffic, you must track performance and be prepared to iterate based on data.
Tools like Google Analytics and Search Console provide the data you need to inform your SEO efforts. Some key metrics to monitor include:
Organic traffic and keyword rankings – Are you gaining traffic? Which pages are ranking for which terms?
Top landing/exit pages – Which pages attract visitors and encourage exploration vs early exits?
Traffic channels – Social vs search vs referral traffic levels.
Site speed – Page load times and performance.
Mobile usability – % of mobile traffic and site performance on mobile.
Backlinks – Monitor new backlinks pointing to your site.
Based on how these metrics change month over month, you can identify what strategies are working and what areas need improvement. Refine your keyword targeting, produce more content around high performers, remove or optimize low traffic pages, and double down on ongoing link building.
SEO is dynamic, requiring constant tracking and iteration. Being agile and adaptable with your tactics based on real data is crucial for continual growth.
Read Also – How to Get Referral Traffic to Your Website
Conclusion
Implementing a strong SEO strategy takes time and effort, but following the tactics outlined in this guide will directly strengthen your organic search visibility and website traffic.
Focus on providing a fast, mobile-friendly website with exceptional user experience. Produce high quality, engaging content optimized for target keywords. Build legitimate backlinks from authority sites through outreach and promotions. Track your performance in search and tweak your approach over time.
SEO is not a "one and done" tactic, but a constant process of optimization, monitoring and refinement. But with persistence, your rankings and organic website traffic will steadily climb over the coming year.
Improved SEO visibility directly translates to more prospects discovering your brand, lower customer acquisition costs, and more revenue year after year. By following these best practices, your website will attract more of your ideal customers from Google and other search engines on autopilot.