Pinterest is a visual social media platform that allows users to share and discover new interests by posting images or videos to their own boards and browsing what other users have pinned. With over 300 million monthly active users, Pinterest is a great platform to leverage for driving referral traffic to your website. Here are some tips on using Pinterest effectively for increasing website traffic: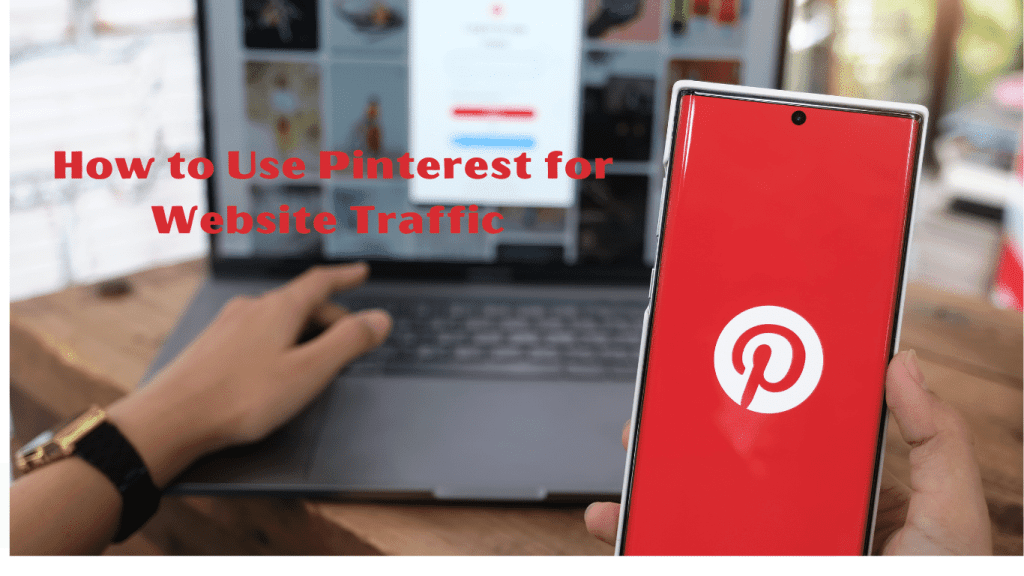 Choose the Right Keywords
The first step is choosing relevant keywords and phrases that your target audience would search for on Pinterest. These should be closely related to your website content and products/services. For example, if you have a cooking website, potential keywords could be "healthy dinner recipes", "easy weeknight meals", "vegetarian dinner ideas", etc. Identifying keywords helps optimize your Pins for discovery.
Optimize Your Pins
When creating Pins, fill out the description with your focus keywords, but make sure they flow naturally in the text. This helps Pinterest determine what your pin is about. Similarly, be intentional with your board names and descriptions. For instance, a board named "Quick Weekday Dinners" is more enticing than one named "Recipes".
Link Pins Back to Your Website
This is crucial – you want your Pins to drive traffic back to your site, so always include a link in the post description. Use an eye-catching image that corresponds to the content on your site, and write a compelling description that gives users a reason to click through. Studies show Pins with links get 2x more engagement.
Pin Consistently
Post new content regularly to stay active and get more eyeballs on your brand. Repin content from other users too, not just your own website. This increases your reach. Schedule Pins in advance using a tool like Tailwind to streamline the process.
Leverage Group Boards
Join related Group Boards in your niche, and pin your content to those too. This exposes your pins to more engaged users who follow entire Boards instead of just individual accounts. Make sure the Boards align with your brand and content themes.
Include relevant hashtags in your Pin descriptions, but don't keyword stuff. This makes your Pins searchable and findable by people interested in those topics. Do your keyword research to determine which hashtags fit your strategy and resonate most with your target users.
Promote Your Pins
Encourage visitors to your site to Pin your content. Add a "Pin It" button to product pages, blogs, recipes, etc. You can also promote your Pins by sharing to your other social profiles. Post your Pins on Twitter, Facebook, and Instagram.
Analyze Performance
Use Pinterest Analytics to see which Pins are getting the most repins, clicks and engagement. This helps you identify what types of content resonates best with your audience for informing future Pin strategy.
Driving website traffic from Pinterest takes time, but leveraging these best practices can help get more eyes on your brand and increase qualified users to your site. Be patient and persistent with posting engaging content, optimizing for SEO, and analyzing your performance.
Here are some additional tips for using Pinterest effectively to drive website traffic:
Make your profile and boards visually appealing – Pinterest is a highly visual platform, so create an eye-catching profile with a well-designed profile and cover image. Organize your boards neatly with visually engaging covers and names. This attracts more followers.
Create content specifically for Pinterest – Don't just re-pin your blog posts. Create Pins tailored to Pinterest, like infographics, how-to guides, lists, and inspirational quotes. This unique content performs better.
Engage with other Pinners – Like, comment on, and repin content from other users. This raises your profile and builds relationships. Follow other Pinners with similar interests to your brand.
Use rich pins – Upgrade your pins by adding more details like price, product info, etc. Rich Pins make your content more enticing and "shoppable" for users.
Get featured on group boards – Having one of your Pins featured on a popular group board can bring a flood of traffic. Curate great content and build relationships with group board admins to get featured.
Run Pinterest contests and giveaways – Contests are hugely popular on the platform. Require users to follow you and pin/repin the contest Pin to enter.
Advertise on Pinterest – Use Pinterest Ads to promote your best Pins and boards. Target based on interests and behaviors for your ideal audience.
Add the Pinterest Save button to your site – This makes it easy for visitors to instantly Pin your pages while browsing.
Read Also – How to Check Competitors Website Traffic
Leveraging these additional tactics can further boost your Pinterest reach and referral traffic. Test different strategies and see what resonates most with your audience.