In today's digital landscape, monitoring your competitors' website traffic provides invaluable insights to inform your own marketing and SEO strategies. By analyzing the volume, sources and behaviors of visitors to rival sites, you gain an accurate picture of their digital presence and performance.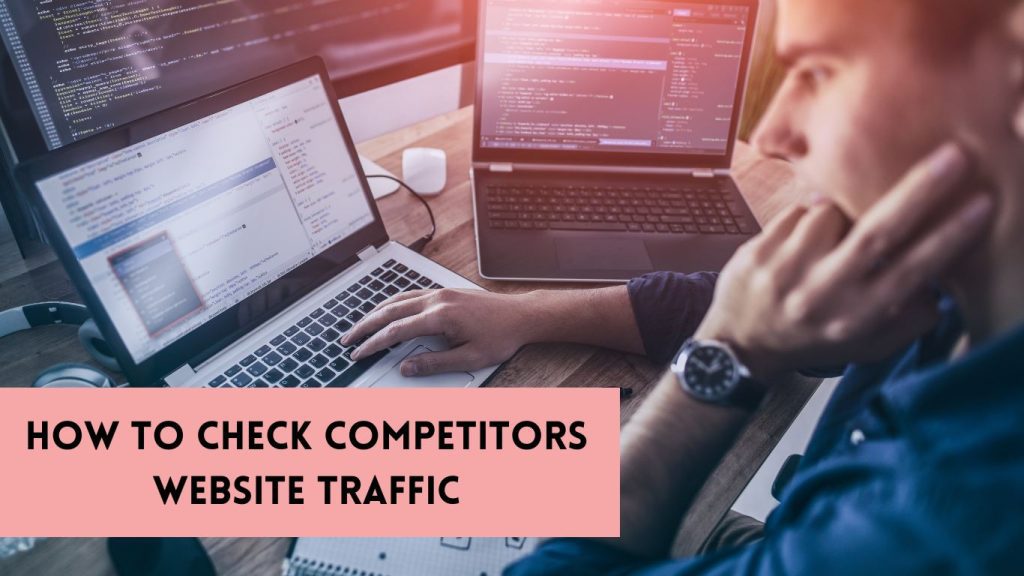 This comprehensive guide will teach you multiple methods for checking competitors' website traffic using free and paid tools. You'll learn metrics like monthly visits, geo-location of users, site engagement, referral sources and keyword rankings. With these data-driven competitive insights, you can refine your approach to gain an edge.
Follow this playbook to:
Select the best tools for website traffic analysis
Uncover visitor metrics for competitor sites
Spot trends and changes in performance
Identify successful SEO and content strategies to model
Discover new opportunities to outrank competitors
Validate the targeting and effectiveness of your own efforts
Let's dive in to mastering competitive web traffic analysis!
Why Monitor Competitors' Website Traffic
Checking competitors' website traffic provides many benefits:
Size the digital market – Visitor data shows total demand and consumer interest helpful for forecasting.
Evaluate rival strategies – See what drives traffic to their site whether SEO, PPC or other methods to identify what works in your industry.
Spot opportunties – Low competitor traffic for certain keywords or pages give you openings to target the same intent with better content.
Gauge market share – Compare your site traffic to competitors' volumes to determine your relative penetration and position in the market.
Monitor leader rankings – Regularly checking on key metrics keeps you informed if competitors are gaining or losing traction.
Analyze new entrants – Keep tabs on venture-backed startups and others gaining steam to avoid being disrupted.
Set benchmarks – Establish goals for your own site's growth based on current industry traffic and performance.
Discover missed niches – See which buyer needs your competitors aren't fully addressing for potential gaps you can fill.
With so many upside applications, checking competitor website traffic should be a standard part of your market research and analysis.
Selecting the Right Website Traffic Analysis Tools
A variety of free and paid tools exist to analyze competitors' website traffic. Consider both cost and depth of data when selecting solutions. Here are top options:
Free Competitive Site Traffic Tools
1. SimilarWeb – Provides estimated monthly visits, geo-location of visitors, pages per visit, bounce rate and referrals. Limited keyword data. Chrome extension useful.
2. SEMrush Traffic Analytics – Checks desktop and mobile visits, top pages, referrers and limited keyword rankings without a paid SEMrush account. Very helpful for basic snapshot.
3. Ahrefs Site Explorer – Shows total site traffic estimate without detailed metrics unless you upgrade to paid plan. Quickly compares site size and backlinks.
4. Alexa Website Rank – Gives global and country-specific Alexa rank and simple engagement metrics for size comparison.
5. Google Trends – Analyze search trends and traffic patterns over time for industry keywords and competitor domains.
6. OpenLinkProfiler – Free lookup shows inbound link metrics including spam scores.
Paid Site Traffic and Analytics Tools
1. SEMrush – Robust paid features reveal in-depth keyword and traffic data including search rankings, search volume, clicks and CPC data. Custom reporting.
2. SpyFu – Detailed click-stream analysis shows what keywords drive traffic plus ad account intel. Starting at $39/month.
3. Ahrefs – Full traffic breakdowns and marketing KPIs through premium paid subscription starting at $99/month. 14-day trial.
4. SimilarWeb Pro – Upgrade for accurate instead of estimated traffic insights including referral, keyword and geo-data. Pricing upon request.
5. Jumpshot – From Moz, gives clickstream data into both traffic volume and visitor actions/conversions on site.
For the most powerful competitive intelligence, paid tools like SEMrush and Ahrefs provide superior depth, accuracy and analytics. Start with free tools then upgrade as needed.
Measuring Key Website Traffic Metrics
Once you've selected analysis tools, focus on benchmarking competitors across these key website traffic KPIs:
1. Total Visits
The total volume of visitors per month indicates website reach and traction. Check whether competitors' visits are growing or declining over 3, 6 and 12 month periods using a tool like SEMrush Traffic Analytics.
Segment data further by:
New versus returning visitors
Geography – where visitors originate
Mobile versus desktop
2. Bounce Rate
Bounce rate represents the percentage of visitors who enter and exit in the same session without clicking deeper into the site. Higher bounce rates signal lack of engagement. Evaluate why competitor content doesn't retain visitors.
3. Pages Per Visit
More pages visited during an average session indicates visitors are consuming and interacting with site content. Compare your page depth to competitors. See which pages attract most traffic.
4. Time On Site
Longer duration onsite implies visitors are engaged. Review whether competitor times correlate to content quality. See if more focus correlates with higher on-page duration.
5. Traffic Sources
Determine the main referrers driving competitor traffic whether organic search, paid ads, social media, email or other sources. See where more of their visitors originate for growth clues.
Analyzing Organic Keyword Traffic Sources
For SEO competitive analysis, tools like SEMrush make it easy to view competitors' top organic search keywords by volume along with monthly clicks, growth trends and more.
Ask these questions when auditing organic keyword traffic:
Which terms drive the most search volume? Look for higher difficulty keywords you can target and gain share.
Are competitors gaining or losing share for brand and product name keywords? An erosion likely indicates their declining domain strength.
How does your site's keyword visibility compare for head terms? Identify gaps for core products, services and thought leadership content.
What long tail keyword opportunities exist that competitors haven't optimized for yet? Expand your reach targeting these specific queries.
How does content pillar depth compare? Look at which topics and categories competitors have invested in heavily for visitors.
How does domain authority and backlink profile measure up? Lower authority sites often struggle ranking for competitive terms.
Keyword traffic data reveals both competitors' strengths and strategic gaps to inform your content plan and SEO initiatives.
Checking Referral Traffic Sources
Referral traffic provides clues on competitors' broader marketing mix. Are they successfully driving traffic from:
Social media – See which platforms like Facebook
Paid ads – Identify networks with shared visitors
Affiliate programs – Require upkeep to keep driving volumes
Online PR – Earned media relationships take work to sustain
Influencers – May have partnerships monetizing influencer content
Higher referral percentages indicate strong integration of owned, paid and earned media. Weak social or lack of influencer content marketing present opportunities you can leverage instead.
Using Clickstream Analysis to Gauge Engagement
Beyond just visitor volume, clickstream analysis shows how users engage on competitor sites. Paid tools like Jumpshot and SpyFu track clicks revealing:
Which pages hold visitor attention best
Where visitors enter/exit
How far down funnel they move
Conversion rates for transactions or form fills
Deeper clickstream insights help you:
Model page layout, content structure and conversion paths
Identify weak pages failing to engage visitors
Improve user experience sticking points
Develop higher-converting site flows
Focus content development on topics attracting attention
This granular visibility into the customer journey on competitors' sites powers smarter optimization.
Checking Google Search Rankings
Visibility in organic search results directly fuels website traffic growth. Use rank checkers like SEMrush to compare your site's placement versus competitors for target keywords.
Monitor competitors for:
Which pages rank best – Evaluate why Google favors this content
Ranking volatility – Frequent fluctuations may indicate issues
Local search visibility – See if competitors rank for geographic keywords
Featured snippets dominance – This drives huge traffic; study their content
Strong brand-name rankings – Sign of brand authority you aim to build
Increase focus on areas competitors rank well in and optimize new opportunities.
Establishing Traffic Analysis Benchmarks
When first evaluating competitors' website traffic, establish a performance baseline by checking:
Current overall site traffic volume
Visits for key landing pages
Top keyword rankings and visibility
Traffic from main referrers and campaigns
Any recent performance changes or dips
Set calendar reminders to recheck these benchmarks quarterly or monthly. Side-by-side comparisons reveal trends and gaps.
Average competitor performance also helps set realistic goals for your own website growth. With adequate investment and execution, reaching industry averages or leaders is viable over 1-3 years.
Gauging Competitor Website Health
Beyond visitor metrics, overall site health impacts performance. Assess core web vitals for red flags:
Speed – Slow page load times increase abandonment. Check site speed analyzers.
Mobile Optimization – Poor mobile experience turns visitors away. Inspect responsiveness.
Security – HTTP sites hurt credibility and rankability. Ensure SSL deployed.
Technical SEO – Crawl errors or restrictive robots.txt files limit indexing.
Link Profile – Toxic backlinks or over-optimization harm authority. Check penalty sensors.
Diagnose where competitors are going wrong technically to avoid the same pitfalls in your own ecosystem.
Tracking Traffic Trends and Changes
The most value comes from regularly monitoring competitor traffic and rankings over time. Schedule recurring checks at minimum every quarter.
Watch for trends including:
Sudden rankings growth or volatility
Launch of paid advertising campaigns
Increased influencer content marketing
Seasonal traffic spikes around events or holidays
New content sections or site sections being pushed
Downward slide indicating neglect or algorithm penalties
Compare changes to your own traffic patterns and responses. Compile competitive findings into a tracking dashboard using Excel or Google Data Studio.
Turning Insights Into Action
Analyzing competitors' website traffic just scratches the surface. Earn the full ROI by:
Sharing key takeaways across your marketing and product teams
Collaborating cross-functionally on improvement initiatives
Updating your keyword strategy to own missed terms
Producing superior content on hot topics
Launching targeted promotion campaigns
Improving technical site aspects like speed and responsiveness
Setting traffic and revenue goals based on benchmarks
Transform these data-driven competitive understandings into tangible tactics that boost your performance and search visibility ahead of rivals. Commit to consistent monitoring and execution.
Read Also – How to Get Referral Traffic to Your Website
Conclusion
Checking competitors' website traffic provides immense strategic value by revealing visitor volume, referrals, engagement and growth trends. Leverage free and paid tools to unlock these performance insights.
Use this intel to size the market, set goals, win more keywords, enhance creative and technical aspects, and gain an edge on rivals. By putting these competitive learnings into play, you can deploy smarter marketing and SEO strategies that attract more qualified traffic away from competitors over time. Just remember to track continuously as the landscape evolves.