Academic websites have unique needs compared to other types of sites. They require a professional, credible design suited for sharing research, resources, and information. Using the right WordPress theme can give your academic site a polished look while including features commonly needed for universities, schools, research labs, and more.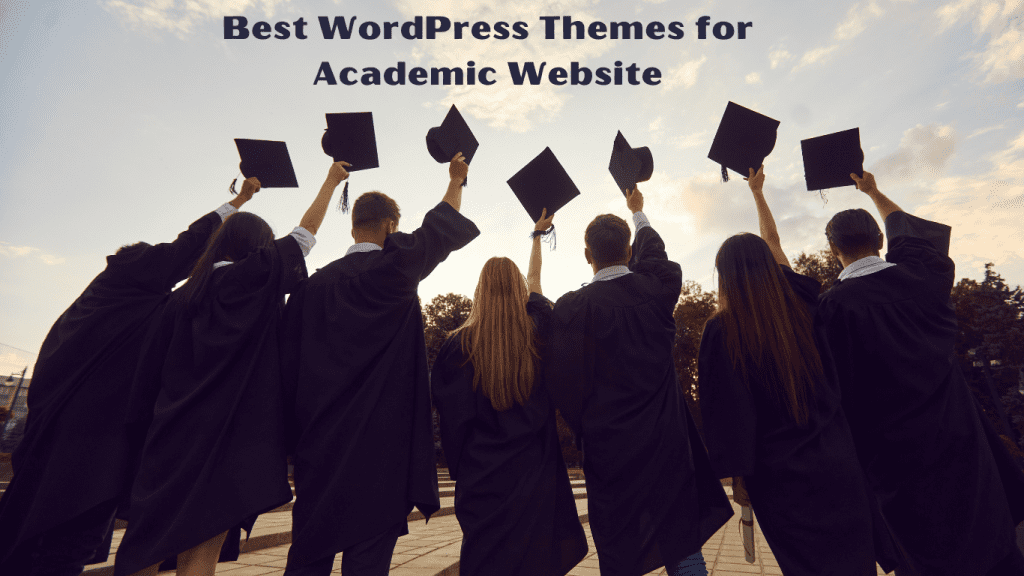 In this guide, we'll cover the key elements that make the best WordPress themes for academic use. We'll also recommend 10 top-rated themes specifically designed for educational institutions and organizations.
What to Look for in a WordPress Theme for Academic Sites
Here are some of the most important criteria to keep in mind when choosing a WordPress theme for an academic website:
Professional, Credible Design – The theme should look polished, sophisticated, and instill confidence. Academic sites need to establish credibility quickly with site visitors.
Responsive Design – With mobile device use continuing to grow, responsive design is a must. The theme should adapt seamlessly on all devices and screen sizes.
Easy to Customize – Academic sites need flexibility to tailor the design and features to their brand. Look for themes with ample customization options.
Widget Areas – Widgets allow you to add content in sidebars, footer areas, and other sections of pages without coding. Themes with multiple widget areas provide more content flexibility.
Features for Online Courses – More academic sites now provide online classes and learning. If applicable, look for LMS-compatible themes or those built for online courses.
Options for Research Display – Does the theme have features for displaying published papers, lab results, citations, or journal articles in an attractive way? This can be a differentiator.
Events Calendars – Events like seminars, conferences, and campus activities are a big part of academic sites. Find a theme that highlights events in a modern calendar.
Staff Profiles/Directories – The ability to showcase faculty and staff in an engaging profile or directory page is useful for many academic sites.
Contact Forms – Site visitors need an easy way to get in touch. A theme with a contact form plugin included removes the hassle of installing one separately.
Now that we've covered what to look for in an academic WordPress theme, let's explore some top options on the market today. All of these WordPress themes include the important criteria listed above.
Top 10 Best WordPress Themes for Academic Websites
Academica
Academica is a popular choice designed specifically for educational institutions. It comes with 10 pre-built websites for different schools and programs. The design options are professional, contemporary, and very customizable.
Academica also contains elements useful for academics like events calendars, staff profiles, customized sidebars, campus news feeds, and more. It's an excellent all-in-one option for schools, universities, training centers, or bootcamps.
Schoolbox
Schoolbox brands itself as a WordPress LMS but can function as a theme too. It's geared for selling online courses but also works great for general academic sites.
The Schoolbox theme is extremely customizable with color schemes, menus, widgets, and page layouts. It also integrates seamlessly with popular LMS plugins like LearnDash. The responsive design fits courses, class materials, multimedia, and more.
Eduma
Eduma is another robust WordPress theme designed for eLearning websites. It works for course creators, code academies, online universities, and similar sites.
Although made for online education, Eduma includes all the standard pages and sections you'd expect on any academic website. Customization is easy with elements like mega menus, multiple layout options, events calendars, and WooCommerce integration.
eLumine
eLumine has an elegant, polished design that fits many types of professional education websites. It works equally well for schools, research organizations, training companies, and more.
This theme features ample logo, font, color, and page display options to match your brand. Some of the handy academic elements include staff profiles, events calendars, course catalogs, forums, and subdirectory course pages.
Quill
Quill is a classic yet modern WordPress theme for academic sites. It has a customizable homepage with slider sections to showcase the most important content.
The inner pages use an engaging grid or list layout for course materials, blog posts, staff bios, research, and more. Quill also features advanced mega menus, widgets for customization, and full-width background images or videos.
CoachPress
CoachPress enables you to create beautiful online course websites. It works for individual instructors, coaches, academics, and small educational businesses.
The pages use a responsive grid display that fits courses easily alongside standard site content. CoachPress also integrates with plugins like LearnDash to create course directories, lesson pages, quizzes, and more.
Academy
True to its name, Academy is an excellent multi-purpose theme for academic websites. It combines minimalist design with the advanced functionality needed for educational sites.
Customization is a breeze with block editor support, widgets, design controls, and header/footer builder. Features like events calendars, course review sections, instructor profiles, and forums make it perfectly suited for academia.
College
College is built around the core features academic institutions need. The design options range from classic to modern with multiple header styles, page layouts, and color schemes to choose from.
This theme also packs in functionality like staff profiles, events calendars, course catalogs, custom sidebars, and sliders to showcase important announcements or programs.
9.alfaClever
alfaClever is a great WordPress theme to showcase online courses and class materials. It works nicely for individual instructors, coaches, schools, and bootcamps.
The pages use an attractive grid or list view to organize course content. alfaClever also integrates with plugins like LearnDash to create quizzes, lessons, review sections, and more.
Scholar
Scholar packs the functionality of a full-fledged LMS but works nicely as a standalone WordPress theme too. It's perfect for paid online courses, free community classes, and mixed content sites.
Color schemes, fonts, menus, page layouts, and other elements are all customizable. Scholar also includes course functionality like assignments, video lessons, slides, quizzes, and multimedia content options.
Get Started With the Best WordPress Theme for Your Academic Website
The academic themes above represent the top options available for educational institutions and course creators. With dedicated options now available, there's no need to force-fit a generic theme to work.
We recommend starting with the criteria that's most important for your website. Do you need to highlight online courses or campus activities? How much customization is required? What functionality and integrations will you need?
By focusing on the essentials, it becomes much easier to select a theme that fits your brand and needs. The rest is details that can be tailored as you grow.
Read Also – Best WordPress Themes for Video Production Company
With the right foundation, you can build a stellar academic website on WordPress that establishes credibility, engages visitors, and achieves your online goals. The themes above are purpose-built to help schools, researchers, and educators do just that in style.