Starting a food blog on WordPress? With so many great themes to choose from, it can be tough to decide which one is the best fit for your site. So hello guys my name is mohit and In this article, we'll take a look at some of the top food blog themes for WordPress available today. These themes offer beautiful designs, powerful features, and excellent optimization for search engines – everything you need to create a successful culinary site on WordPress.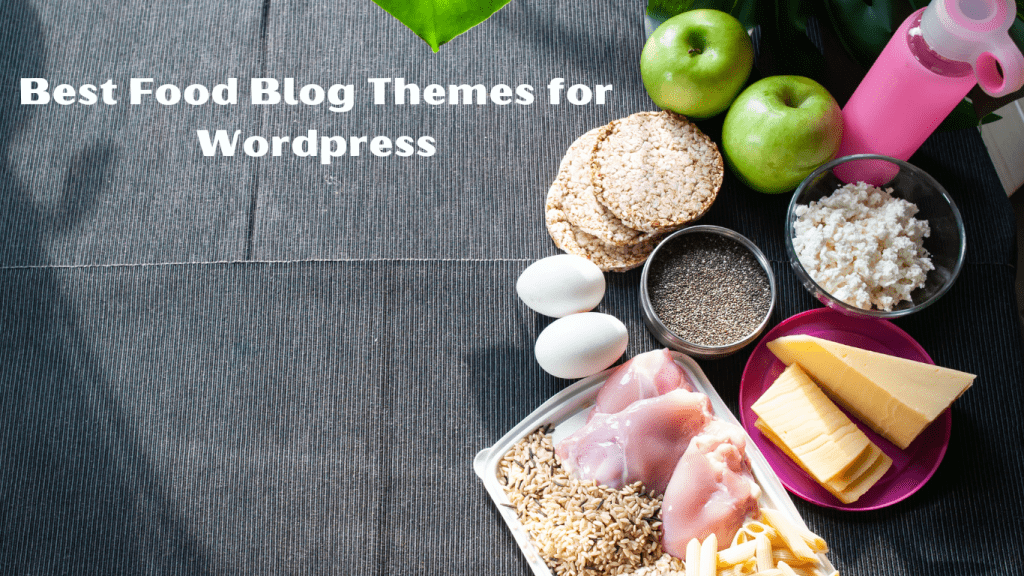 What to Look for in a Food Blog Theme?
When choosing a WordPress theme for your food blog, there are a few key things to consider:
Responsive design that looks great on all devices. You want a theme that adapts seamlessly for mobile visitors.
Eye-catching photography integration. Food photography is a must, so make sure your theme displays images beautifully.
SEO optimization. Your theme should make it easy to add relevant meta descriptions, tags, titles, etc. to boost search visibility.
Recipe formatting options. Look for a theme with structured recipe schemas, print styles, jump-to recipe buttons, etc.
Social media integration. Sharing and promoting recipes on sites like Facebook is key, so social media share buttons are ideal.
Page speed. A fast loading theme creates a better user experience for visitors.
Top Food Blog Themes for WordPress
With those key criteria in mind, here are our picks for the top food blog themes on WordPress:
Foodica
Foodica is a feature-packed theme ideal for building a professional-quality food or cooking site on WordPress. Some highlights include SEO optimization, Google Recipeview support, drag-and-drop page building, and engaging animations. There are multiple demos to choose from, including dark and light styles.
Bistro
Bistro lives up to its name with a charming restaurant-style look. But it's much more than just a pretty face – Bistro also provides Schema.org markup for recipes, responsive design, social sharing integration, custom branding, and even parallax scrolling effects.
Recipedia
As the name suggests, Recipedia is purpose-built for recipes and cooking content. It makes adding and formatting recipes a breeze. And support for Recipe Card schemas, print styles, and Tools & Ingredients modules provide a complete cooking site solution.
Bon Appetit
A fitting name, Bon Appetit delivers a simple yet appetizing magazine-style theme. Recent updates added even more polish, like browser caching and speed optimization. Plus, there are ample options to customize fonts, colors, layouts, and more.
Food Hunter
Food Hunter brings a bold, adventurous vibe with its outdoor lifestyle design. For food blogs, it provides handy features like streamlined recipe creation and built-in Recipe Card support. Excellent photography displays are a highlight too.
Start Cooking with a Tailor-Made Food Blog Theme
A high quality WordPress theme is one of the best investments you can make for a successful food blog. With a theme built specifically for cooking sites, you get functionality, design, and optimization features made for the niche. Check out the themes above to find the perfect fit for your culinary website. Then get ready to start serving up delicious content!
Tip for Choosing the best Food Blog Theme
Here are some additional tips for choosing the best food blog theme for WordPress
Focus on Speed Page speed is a very important ranking factor for SEO. Look for minimalist themes that avoid slow page builders and have optimized code. A fast loading theme will keep visitors happy and help with search rankings.
Check ThemeFlexibility
Make sure the theme you choose offers enough flexibility to add the features you want later on. You may wish to add things like custom widgets, ecommerce options, forums etc. A rigid, overly stylized theme will limit you.
Read Theme Reviews
Don't just take the sales page claims at face value. Do some digging and read reviews from real users to get an honest assessment about pros and cons before you buy. Look for themes with a high rating and satisfied customers.
Consider Long Term Support
Will the theme receive ongoing updates and support over time? This is vital for keeping your site secure and preventing bugs. Prioritize themes from developers committed to long term maintenance and support.
Check Demo Content
A good theme will come packed with quality demo content to get your site started quickly. Photos, copy, recipes etc should be included so you don't have to create a site from a blank slate. High-end stock or custom images are a big plus.
Go With Theme Specialists
For the best fit, consider a theme designed specifically for food bloggers rather than a generic multipurpose theme. Specialized themes have the right features and optimization already built in.
Read Also – WP Jannah – The Ultimate WordPress Newspaper Theme