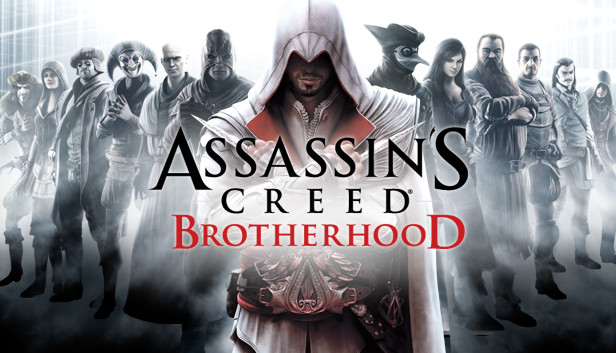 Assassin's Creed: Brotherhood is a 2010 action-adventure video game developed by Ubisoft Montreal and published by Ubisoft.[1][2] It is the third major installment in the Assassin's Creed series, and a direct sequel to 2009's Assassin's Creed II. The game was first released on the PlayStation 3 and Xbox 360 in November and December 2010 and was later made available on Microsoft Windows in March and June 2011.
The plot is set in a fictional history of real-world events and follows the centuries-old struggle between the Assassins, who fight for peace with free will, and the Templars, who desire the same but through control. The framing story is set in the 21st century and features series protagonist Desmond Miles who, with the aid of a machine known as the Animus, relives the memories of his Assassin ancestor, Ezio Auditor da Firenze, to find a way to avert the 2012 apocalypse. The main story takes place immediately after Assassin's Creed II, and follows Ezio in 16th century Rome as he attempts to restore the Assassin Order, and eliminate his enemies: the Borgia family.
System Requirements :
OS: Windows 7 8 10 with 64 bit
PROCESSOR :
Intel Core2 Duo 1.8 GHZ or AMD Athlon X2 64 2.4GHZ.
MEMORY: Minimum 2 GB ram
GRAPHICS:256 MB DirectX® 9.0–compliant card with Shader Model 3.0 or higher